By Lucia Rivera,
VRG Intern
Masa harina, a flour and dough made from ground maize, is essential to Latin American cuisine. It can be found in tortillas, pupusas, tamales, gorditas, and many more staple dishes from North and South America. For vegans, there are also tons of ways to make use of this great versatile ingredient.
Beginning with corn tortillas, dry masa harina should be paired with water to be shaped and cooked. The general ratio is 1 cup of water for every cup of masa harina, with half a teaspoon of salt as well.
Once corn tortillas are made they can be used for many vegan recipes including bean tacos, vegetable fajita tacos, or meat substitute tacos.
Besides tortillas, another great use of masa harina is for tamales. Here is a list of 18 vegan tamales recipes provided by Dora's Table: https://dorastable.com/18-easy-vegan-tamales/. These include fillings like red chili jackfruit, black beans with sweet potato, and cactus. However, tamales can also be made for dessert, with fillings such as pineapple and strawberries.
Moving on from tamales, gorditas, and sopes are two Mexican dishes that can be made with a couple of ingredients in addition to masa harina. Here is a recipe for both from Mexican Made Meatless: https://mexicanmademeatless.com/how-to-make-sopes-and-gorditas/.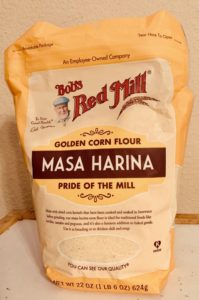 For vegans interested in purchasing masa harina, one great option is Bob's Red Mill Masa Harina, which can be purchased online or at a local grocery store. Additionally, the internet is full of recipes using masa harina, providing free inspiration for those looking!
Thanks to Anayeli Camacho for providing recipe information used in this post.
NOTE FROM THE EDITOR: Masa Harina is a flavorful flour made from nixtamalized corn (corn soaked in lime water).For more information on this and other traditional Latin American vegan foods high in calcium, see: https://www.vrg.org/nutrition/foods_calcium.htm
For other
recipes, see:
https://www.vrg.org/journal/vj2006issue4/2006_issue4_tamales.php
https://www.vrg.org/journal/vj2000jul/2000_jul_ending_corn.php
https://www.vrg.org/journal/vj2011issue1/2011_issue1_vegan_mexican_household.php